about
HAQUA is a new style of fashion tattoo accessory that can be applied easily with water.
The design concept is based on "haku (film) + aqua".
With its fine and elegant designs, wearing a HAQUA gives a woman a kind of sophisticated sparkle.
The simple design can be used like jewelry in any season.
Its seal form lets you arrange it however you want: as a bracelet, anklet, ring, or other accessory.
It produces a feeling of casual elegance suitable for all kinds of situations.
It is water resistant, and depending on how it is used it may last for up to a week.
HAQUA can add a sparkle not only everyday life but to travel, sports, and a variety of other situations.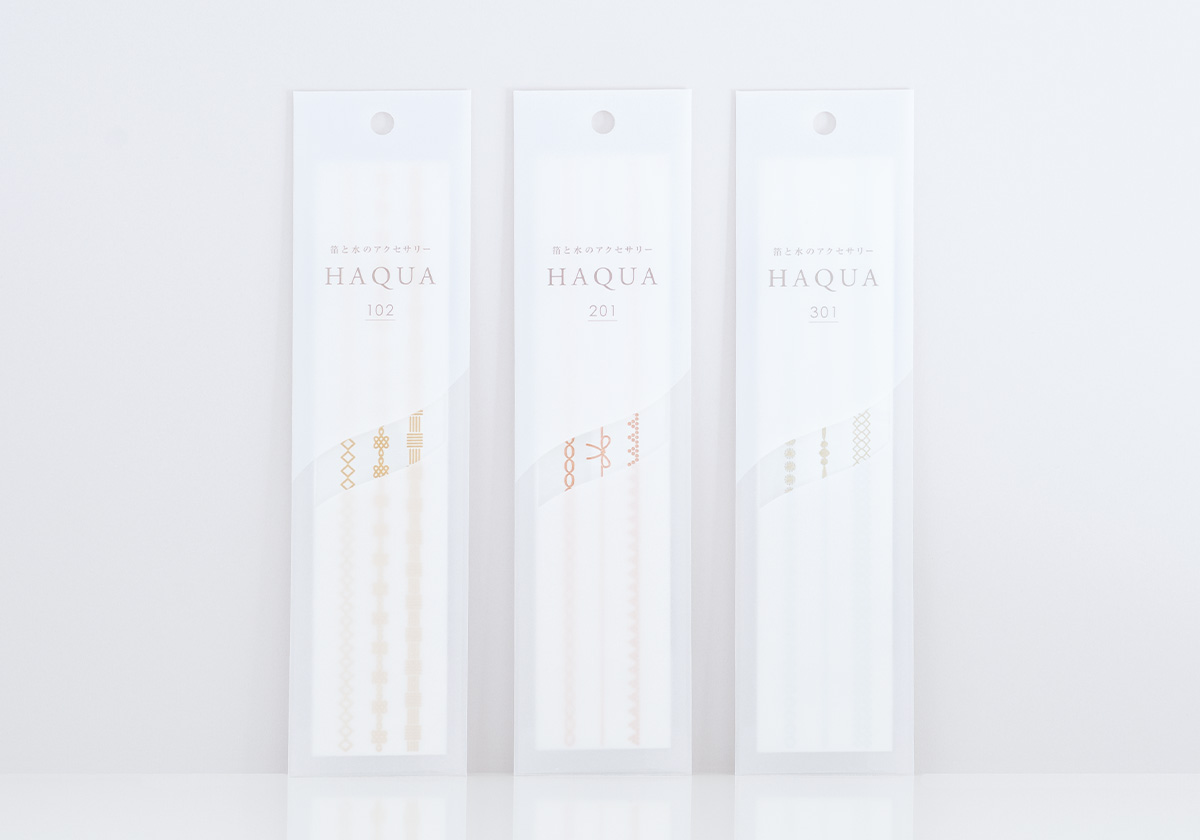 Cut the sheet to your desired size and remove the clear film. Then place the sheet tattoo-side down onto clean, dry skin.

Thoroughly wet the sheet with a wet tissue or cloth for about 10 seconds.

Remove the sheet slowly, making sure the tattoo is stuck to your skin.

Dry for 10 minutes. The tattoo lasts 3 to 5 days depending on the person.
PRECAUTIONS
Do not use around eyes or areas with soft skin.
Do not use if you are allergic to adhesives or have sensitive skin.
To remove the tattoo, apply baby oil or olive oil on the area then wash off with water.
Not for use for infants or young children and pregnant women.
WASHIN CHEMICAL INDUSTRY CO.,LTD.
1460 Sodeshi Town,Shimizu,Shizuoka City,Shizuoka 424-0037,Japan
Art Direction & Design

Shizuka Tatsuno
Photo

Fumio Ando
Illustration

Yumi Ito
Copywriting

Masashi Nishihara
Model

Reina (cover) / Megumi Matsuoka (hand) / Yuki Daigo (leg)